Determined Boyd books racetrack return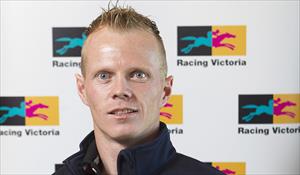 Few jockeys can boast the dogged determination of mature-age apprentice Anthony Boyd.
The 28-year-old has harboured dreams of a career in the saddle for as long as he can remember, having been introduced to the caper by his uncle, John Hunter, also a successful jockey.
In a sadly all-too-familiar tale, there was just one thing standing in his way: weight.
"I always wanted to be a jockey, but ever since I was a kid I was told I was going to be too heavy and too tall," Boyd said.
A natural horseman, Boyd consigned himself to a career as a track rider for trainer Danny O'Brien, working on a number of the Flemington trainer's stable stars during the week and race riding on the Victorian picnic scene when time permitted.
However the arrival of his first child, Chase, saw Boyd focus his full attention on his growing family.
During that time away from the track, Boyd "blew out" to a size where he was no longer able to ride competitively.
"I was on the couch one night, watching a video my wife took of me with the kids in the pool and was absolutely blown away by how fat I was," he said.
"I actually got out to 77 kilograms, I could hardly recognise myself. I started to lose a bit of weight, just for health reasons, and eventually got down to 60 kilograms. At that point I realised it was my opportunity to really have a go at the professionals (riding ranks)."
Boyd took the opportunity with both hands, re-locating to New South Wales where he began an apprenticeship with Wagga-based trainer Noel Carrol.
With his weight back under control, Boyd began his career as a professional jockey with a bang, securing a winner for Victorian-trainer Brian Cox in his first day at the track.
However after a number of months, Boyd decided to move home to Victoria.
"Having a wife and two kids that far away from our family was quite a struggle," he said.
"I'd never lived away from Victoria myself and was a bit homesick. Also, most of my rides were coming from Victorian trainers. My heart was always set on being a Victorian jockey, so with that in mind, we decided to return home at try our luck in the home-state."
Boyd returned to Victoria and joined Racing Victoria's Apprentice Jockey Training Program (AJTP) as a first-year apprentice in January, 2015.
The 28-year-old admitted going back to school was a daunting challenge, but that it was the best thing he has done for his career.
"It's amazing the opportunity we're given here in Victoria through the (AJTP) program," he said.
"Not only do we have great quality coaches, but to doing the personal training side of things I find incredibly valuable for now and later on down the track."
Boyd will make his return to professional race riding on Saturday at Werribee, where he was been given a ride by his employer, Danny O'Brien and fellow Flemington-trainer, Mark Kavanagh.
And while he will no doubt be angling to return a winner, Boyd said he was just happy to be given the opportunity to resume chasing a dream he'd had since he was a child.
"I couldn't wipe the grin off my face when I got the call telling me I had got a ride," he said.
"To be given an opportunity by people like Mark Kavanagh and Danny O'Brien is just amazing, I'm really grateful for the chance they've given me and to be finally getting back to the races."
By Daniel Miles and story & photo appears courtesy of Racing.com