O'Brien finds value at Inglis Sales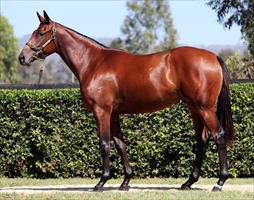 As prices soared at this year's Inglis Easter Sales in Sydney over the past few days, Flemington trainer Danny O'Brien remained patient and was rewarded late today with three bargain buys.
O'Brien picked up a beautiful Foxwedge filly for just $40,000 (pictured), and he spent $70,000 each on Star Witness and Sebring colts. This follows his purchase of an outstanding Stratum colt on Day 2 of the sale for $250,000.
"It's important at the sales to remain calm and patient and stick to your plan. You do all the due diligence on each horse and set a value then it's critical to stay the course," O'Brien said.
"You need to remove the emotion from the process so you do not overspend as you can get beaten on a yearling and become emotional, and before you know it you end up buying a horse for 40-50% more than you valued it at."
O'Brien stuck to his plan over the past few days and now his stable has acquired some lovely types at prices that won't break the bank.
"I was very pleased with the outcome of today as the Foxwedge filly is a beauty as are the colts.
"I was willing to spend around $100,000 for each of them, so I think they are all well bought."
O'Brien's Inglis Easter Purchases
Lot 517 – Foxwedge/Brave Choice Filly - $40k Pedigree & Video
Lot 547 – Star Witness/Geblitzt Colt - $70k Pedigree & Video
Lot 202 – Stratum/Sprung Colt - $250k Pedigree & Video
Lot 488 – Sebring/Vertefeuille Colt - $70k Pedigree
To view other horses available with the stable from this sale season click here