Star Witness on track for July Cup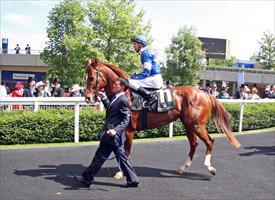 Danny O'Brien is trilled with Star Witness' progress at Newmarket as the July Cup draws closer.
O'Brien is keen for his star colt to break through for a win in the UK after two gallant performances at Royal Ascot earlier this month and he has been pleased how the horse has come through his two runs in four days.
It just seemed one of those weeks that sometimes happen in racing for the Star Witness team at Royal Ascot.
Armed with what seemed to be the perfect candidate for the Royal Ascot sprint double and, with their horse in fine form on the training track, O'Brien and Widden Stud principal Antony Thompson went to England full of confidence that Star Witness could win at least one of England's best sprints.
In the King's Stand Stakes, Star Witness ran bravely in what O'Brien described as "one of the fastest run races I have ever seen". The Starcraft colt blew the start, but powered to the line from a hopeless position to finish second behind local sprinter Prohibit.
"We just got a bit further back than we wanted to, and then he had nothing to take him into the race. He ran a great race under the circumstances," O'Brien said.
The run was not missed by local bookmakers, or the press, and Star Witness was widely touted to be the biggest challenger to Golden Jubilee Stakes favourite Delegator.
And then the rain came.
With every drop that fell on the Ascot track in the three days between the King's Stand and the Golden Jubilee, the Star Witness camp took a body blow.
Their colt was an unknown on significantly rain-affected tracks, and O'Brien and Thompson were worried his turn of foot would be nullified on a soggy and testing Ascot 1200-metre course.
The were right. Star Witness ran another brave race in defeat, finishing third on the heels of the winner Society Rock after showing plenty of grit on the energy-sapping ground but minus his electrifying late sprint.
"He travelled beautifully in the run and ran a fantastic race. On top of the ground he probably wins, but the ground just slowed him up," said jockey Steven Arnold.
"It would have been better if the rain had stayed away, but that's racing, it happens sometimes. He just faded that last little bit on the ground," O'Brien said.
"We've still got the July Cup and he is not due to go into quarantine until after that race. We'll have a look at him and make sure he pulls up well in the next week or so."
Thompson will stand Star Witness at stud this southern hemisphere breeding season and although proud of his horse's run, he was visibly disappointed that he'd come so close to victory at the Royal meeting for the second year running after Nicconi finished a gallant fourth in the King's Stand a year earlier.
"Royal Ascot is an amazing week. We've had three tries to win a race at the meeting and we've come so close, but we'll keep trying and we'll keep coming back," he said.
How well the horse has done since the taxing week has given Thompson and O'Brien confidence that he can add to his already sparkling resume with a big performance on July 9.
"He's shown what a courageous horse he is so far on this trip," Thompson said. "Royal Ascot is the pinnacle, so it's obviously enormously disappointing, but there is also an enormous fire in the belly to win here. We have the July Cup as an option, and if he continues to do well, we know it's a race he can win."
By Michael Sharkie, to view original Sydney Morning Herald story click here
Photo by Steve Cargill