Every post a winner for One Faster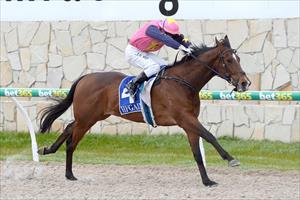 Uluru Stud's winter synthetic track dominance continued with One Faster's strong win at Pakemham on Tuesday.
The Lonhro three-year-old got back on the winner's list after a couple of below par performances by finding the lead, and more importantly the rail, before surging away in the BM58 1000m event.
Jockey Craig Newitt ensure he made use of the horse's good gate and was adamant on taking up the lead on the gelding.
"He is a different horse when he can find the fence and bowl along out in front," Newitt said.
"He pricked his ears once there and he has such a high cruising speed that he puts the horses in this class under pressure early before holding his strong gallop to the line.
"In the right class he can keep winning."
The win was owner Uluru Stud's sixth win on Synthetic tracks this season thanks to One Faster (two), Syrahbeel (three) and promising stayer Shampion.
Photo by Racing Photos