From Spencer St to Caulfield Cup for 1% Pete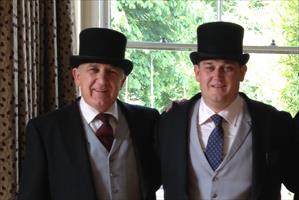 Meet 1% Pete, the V/Line station master with a runner in the $3 million BMW Caulfield Cup.
That's Peter French, pictured left. His Thursday was turned upside down when he found the horse he owns one per cent of ­­– De Little Engine – had made the field with Fanatic's scratching.
French is a De Little Engine fanatic (no pun intended) having travelled wide and far to see all of the horses' 36 starts, mostly by train, and has his pink tie and horse caps ready for Cup day.
"Mate, I'm that excited, I've been telling my mates at work how many more sleeps to the Cup. Now we are in it I don't know if I'll be able to survive," French said from Spencer St Station.
Luckily he has been rostered off Saturday, but if the unexpected happens, he'll have to negotiate trading the Sunday arvo shift.
He's 1% Pete because his Riddles Creek neighbour Jeff Dimery, pictured right, gifted him, as well his brother Lance, their shares in De Little Engine. Mind you Dimery also gifted workmates Rodney Conolan, David Goldsmith and Daniel McClelland 10%, but it's 1% Pete that's the real story.
"Jeff and his family moved in a few years ago and we just hit if off. He's a CEO and I'm just a battler but none of this would happen without Jeff. We are absolutely living the dream, I'm just blessed to have such a champion neighbour," French said.
Dimery is CEO of Alinta Energy, has tasted top level racing success with Shamexpress and Shamrocker, but shares simple passions with Pete and instantly hit off a better-than-neighbourly friendship.
The 'odd couple' realized they shared a love for the punt and the drink but lucked out when Dimery nominated Collingwood as his team. Pete's a Bombers fan.
"Every Saturday afternoon we'd sit on the couch watching the races having a drink and a punt. Our wives and daughter are into equestrian so it's worked out well," French said.
"We just talk horses all the time."
Pete had gone into a small share with Dimery in a horse that would race as Nun Faster, have three starts and broke down. It was then that Dimery decided to look after his mate.
He took a punt on buying a well-bred Encosta De Lago weanling back in 2011 for $47,500, the price reflecting the size, or lack of it and put French in for his one per cent.
"I remember when he came off the float, I reckon Danny (O'Brien) thought it should be at the Meadows (greyhounds) it was that small. Never thought we'd be where we are today," he said.
The horse was not named after Pete's job at V/Line (though he plays it up) but just because of how he looked. Seven wins more than $370,000 in prize money later – and now a start in the Caulfield Cup.
"I've chased him everywhere. I saw his first win at Benalla, got the train to Moe one day after an early shift when he was beaten but I just love it. I don't care how he runs Saturday, just hope he pulls up well, but it's just thrilling to have a horse good enough to go around in the Caulfield Cup."
Dimery and French won't catch a train to Caulfield on Saturday. It will be chauffeur driven limousines and "we'll probably have a few beers on the way too".
"I just tag along. We do get spoilt by Jeff­ that's for sure. What a ride it has been. It's just better that we are great mates with it. We've been fishing together and even to Royal Ascot in the top hat and tails," he said.
And Dimery funded that via his horse Shamexpress winning the Newmarket and Pete copping a long-range tip. He had $200 on it at the early odds of $41 and lobbed at Royal Ascot in the Dimery entourage for the 2013 King's Stand Stakes.
Dimery is thrilled for his mate "1% Pete" to share the Caulfield Cup experience with him this Saturday.
"He's a battler but more importantly a bloody good mate. The passion he has for the horse, you'd think he owned all of it, it's fantastic," Dimery said.
So with only two more sleeps to the Caulfield Cup, French, nominated for his V/Line work for a national customer service award, dares to dream of the weeks ahead and getting into the Melbourne Cup via winning the Lexus on Derby Day.
"Imagine that, I can't control myself now, I reckon getting into the Cup would kill me," French said.
Story by Bruce Clark, to view full G1X story click here