Dalton joins Geelong as track manager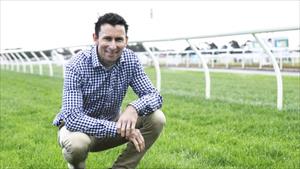 James Dalton says the satisfaction of preparing a track for race day lured him into the Geelong track manager job after almost a decade with trainer Danny O'Brien.
Dalton takes over from outgoing track manager Mark Jennings next Monday, after crossing from the Connewarre stables of O'Brien.
The 38-year-old worked for nine years as O'Brien's property and track manager, having previously worked at both Thirteenth Beach and St Andrew's Golf Links.
It was that adrenaline of preparing ground for feature events that appealed to Dalton.
"To work Open Championships and Australian Opens in the golf industry, you take a lot of pride in preparing for a big event," Dalton said.
"It's the same with the Geelong Racing Club, I think preparing for each race meeting is a big event.
"When you see your facility being used, that's when you get real pride out of what you do and that's something that really appeals to me.
"Being at Danny's, you're just running a training venue, which is great, but to manage race days and be responsible for a bigger facility was what inspired me to come across."
O'Brien said he was trilled that Dalton was able to secure such a terrific position.
"James has been tremendous in getting our private training facility to be world class and the envy of the industry and he will be hard to replace," O'Brien said.
"He will be a great asset for Geelong and lucky he hasn't gone too far and we will still get to utilise his expertise when we trial and race at Geelong."
Dalton said his experience in the racing industry made the opportunity at Geelong the perfect fit.
"I've been with Danny for nine years and it's been wonderful," he said.
"I helped build his training facility from open grassland really to a world class training facility, which it is now.
"I know a fair bit about the horse industry, so I'm just ready to take the next step and manage a racecourse. I'm looking forward to it.
"I think to be able to hold race days and just put yourself at the forefront of race meetings (appealed)."
Dalton said the club would use a window of opportunity between late January and early March to renovate the track, while the club is also installing a sand track in the New Year.
Story by Damian Ractliffe and photo by Alan Barber for Geelong Advertiser, to view full story [|click here]