Secret nets session leads to Man Of The Match Award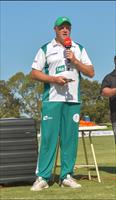 A secret training session led to trainer Danny O'Brien's Man Of The Match performance in the National Jockey's Trust T20 Cricket Match on Monday.
O'Brien initially remained tight lipped about any training that lead to his game changing performance which included bowling figures of 3 wickets for 4 runs and an acrobatic catch while in the field as well as a handy 10 runs with the bat. But when pressed the Cox Plate winning trainer conceded he may have had "one hit" in the lead up to the event.
"The extent of my cricket career since Year 9 has been with a tennis ball down the beach, so I decided that if I didn't want a John Howard moment to follow me around for the next few years that I need to roll a few over and have a hit in the nets over the weekend," O'Brien said.
O'Brien claimed the scalp of Champion hoop Damien Oliver with his first ball after requesting All Star Captain Bryce McGain to bring him into the attack.
"My job was done after that first ball as I will now be able to remind Damien about it for a while to come," O'Brien said.
In the end it was a great day for the jockeys as they ended up winning the match in the Super Over as well as more than $115,000 funds being raised. O'Brien personally managed to raise in excess of $10,000 for the fund.
"It was a terrific day for an excellent cause. I have some very incredible, supportive and generous owners who got behind the cause and gave generously. Being a jockey is a tough, unforgiving profession and the National Jockey's Trust does a terrific job. To support them through an event like this is the least we can do as participants."
To donate to the National Jockeys Trust visit their website by [https://njt.org.au/|click here}