Tower-ing performance from Savabeel gelding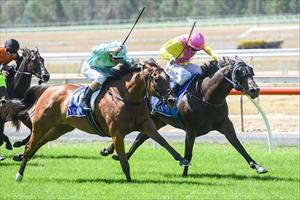 Tower Road showed fighting qualities that will hold him good stead for his future racing to secure his maiden victory at Seymour on Tuesday.
Sent out a $2 favourite in the mile event, the son of Savabeel shot to the lead at the top of the straight and was then challenged strongly inside the final 100m before kicking to hold a small margin on the line.
"My heart sank when the other horse challenged me as I thought we would be beaten, and I could hear (trainer) Danny (O'Brien) on the phone later yelling 'why did you go so early?'," jockey Linda Meech said post race.
"But to his credit once he saw the other horse he dug deep and stuck his head out win."
Rounding the turn, Meech edged into the clear and Tower Road exploded to an early lead.
"The past two times I have ridden him he had to work through his gears, but today with the blinkers on he showed a really strong turn of foot and then he thought he had won the race when he was out in front as he has never been in that position before. I really like this horse, as he has great attitude and I think he has a nice future."
Trainer Danny O'Brien indicated post race that the gelding will have a freshen up following the victory.
"He has done a good job at his first four starts, running well every time, so we will back off him and look to try pick up a three-year-old metropolitan race with him towards the end of the season."
Pic by Racing Photos