Winks reaches century mark for O'Brien stable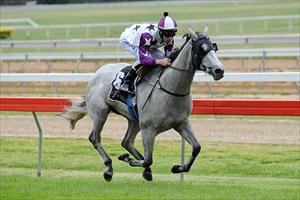 James Winks notched his 100th winner for trainer Danny O'Brien yesterday on the back of the Seymour Cup Day treble.
Winks has ridden for O'Brien since he was an apprentice, however he recently became stable jockey for the powerful trainer, and yesterday they teamed for the first three winners on the program.
Winks successfully steered Turenne in the Southern Cross Office Machinery Maiden Plate (1000m) and Arinosa, pictured above, in the TVN Every Racing Moment On Channel 522 Maiden Plate (1300m).
That was followed by the win of Zabeel-mare Miss La Frenz in the Mitchelton Wines Maiden Plate (1600m).
Turenne was first-up from a spell after being gelded since his first preparation, which saw him finish fourth and fifth respectively on the Geelong Synthetic.
Jumping cleanly from barrier six, Winks positioned Turenne outside the leader only to narrowly prevail in a slugging duel with Reallen over the final 100 metres.
"He actually got headed here today, but to his credit he fought back and won well," Winks said.
"I think the positive thing about him today is that when he got to the outside of the leader he wanted to relax so he'll probably get further."
Winks was then surprised with the ease in which Arinosa accounted for her opposition in the following race.
Bursting out of the barriers, Arinosa obtained the lead with ease and raced unchallenged in the lead for the first half of the race.
The grey filly had class on her side and drew away to win by 3-1/4 lengths against her comparatively unexperienced rivals.
"I had it easy in the lead, I'm surprised they left me alone."
"From the 600 metre mark I decided to increase the tempo because I knew I was on the
best horse.
"She actually floated up the straight and that's why I gave her one backhander - to make sure she'd attack the line.
"I reckon she'll be a better filly when she has something to chase."
Arinosa has now raced five times for a win and two placings with the daughter Dash For Cash winning over $25,000 in prizemoney.
But it was perhaps the least impressive of the three winners that had Winks excited the most.
Four-year-old mare Miss La Frenz broke her maiden status at her fifth attempt. After settling in a midfield position, Winks hooked his mount wide on the home turn only for the big-striding daughter of Zabeel to grind down the outside and win by three quarters of a length.
"I thought that she was my best ride coming here today, I've got a lot of time for her."
"She's a lovely filly at home and she's a lovely filly to ride in a race.
"When she hit the front she actually just played with them so being a Zabeel-mare maybe when we get out to a trip we might put blinkers on her," he added.
Sunday's three winners took Wink's season tally to 27 which has him just one win behind Luke Nolen.
Story by Carl Di Iorio, to view full Virtual Formguide story click here
Photo by Slickpix, to view Slickpix website click here