Star Witness storms to second at Royal Ascot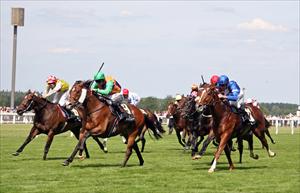 A "messy, ugly" start deprived Star Witness of King's Stand Stakes glory as the Victorian stormed into second place at Royal Ascot overnight.
The Danny O'Brien sprinter rattled home to finish a half-length runner-up to English entrant Prohibit, on the far rail in the picture.
A drifter in betting from 6-1 to start a 13-2 second favourite behind Kingsgate Native, Star Witness should have won as he responded courageously to Steven Arnold's desperate urging.
He dwelt at the start and was last of the standside contingent before unleashing a powerful burst to almost join a famed Australian Royal Ascot band.
O'Brien was left to ponder what might have been.
"It certainly wasn't our plan to be so far back in the race," he said.
"It's not a race that, generally, you can win it from that far back.
"But he was a bit messy, ugly out of the gates and then they really poured on early pace in the race.
"More than anything, he couldn't keep up early.
"Steven just would have liked something to take him into the race, he made ot make all his own going from three furlongs (600m) out.
"He just got nothing to drag him to the winner.
"It was a very brave effort."
Sneeringly condemned as lacking the class to follow in the footsteps of Choisir (2003), Takeover Target ('06), Miss Andretti ('07) and Scenic Blast ('09) , Star Witness now seems certain to contest Saturday's Golden Jubilee Stakes.
Three of the nine internationals filled the minor placings - Star Witness, Sweet Sanette (Hong Kong) and Overdose (Hungary).
Story by Leo Schlink in London, to view full story on Herald Sun website and see video of Danny after the race click here
Photo by Steve Cargill