Star Witness primed for English Group 1 glory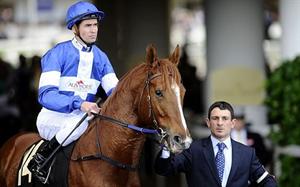 Star Witness may have hit the woodwork a couple of times inside five days at Royal Ascot but he gets one last chance to make Australian racing history on Saturday by becoming the first winner from Down Under of the £400,000 Darley July Cup.
Many, including Ascot winners Choisir, Takeover Taget and Scenic Blast, have tried to take the July Cup back to Australia with them since it became part of the Global Sprint Challenge but all have failed.
However, if Danny O'Brien learned anything from his reconnaissance with Glamour Puss five years ago, it was not to come to England as an after-thought but with plenty of racing left in the horse.
"We brought him over just needing the run in the King's Stand although we still hoped to win it," he said. "But because of that he has held his form."
On Tuesday the colt, who will go into quarantine straight after the race on Saturday before returning home to assume stallion duties at Widden Stud in September, worked over the last five furlongs of the July Course under his jockey Steven Arnold.
"The horse didn't appear to have any problems with the dips and rises," said O'Brien. "He was strong through to the line in the gallop. Steven felt Star Witness was at home on the course – I'm sure there are some horses which don't handle it.
"He's as good as he was on Golden Jubilee day. He ran really well that day without the conditions being quite in his favour and he's certainly not gone backwards since."
Looking forward to the July Cup, O'Brien added: "There is never a Group One in a country like England that is going to be easy to win and if we can win it we will have done a very good job. The places at Royal Ascot will not have done his stallion prospects any harm but obviously wins are what matter in that department.
"We have been close but to get real enhancement we have to win. Of the three races the July Cup is probably the most prestigious and it would be fantastic for him to take it into his stud career."
He added that Arnold will probably try and hold on to Star Witness a little longer than he did in the Golden Jubilee. "He was a bit exposed in the Golden Jubilee. He went a fraction early as the horses down the stands' side appeared to be in front. He was out on his feet in the last 100 metres. We need to be running to the post rather than staggering to it," he explained.
"There was a strong headwind and soft ground for the Golden Jubilee and they ran one minute 17 seconds, which is unheard of in Australia. This horse has run Group Ones running one minute eight [seconds] so you know when horses have run a much slower time it has been a significant test.
"The July Cup should be at least six seconds faster."
Story by Marcus Armytage, to view full Telegraph story click here
Photo by Getty Images