O'Reilly colt produces the goods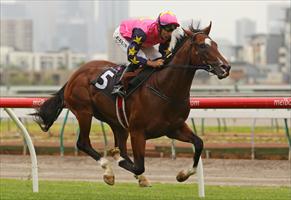 Trainer Danny O'Brien has his sights set on a third consecutive Group 2 Sires' Produce Stakes at Flemington in March, following the dominant debut win of O'Reilly colt Shamexpress at Flemington.
O'Brien, who won the 2010 Sires' Produce with Shamrocker and then took it again last year with Running Tall, said after Shamexpress led throughout to win by four lengths that the colt impressed him as a derby horse in the making, so he had no thoughts of Blue Diamonds or Golden Slippers this autumn.
"If we see him again this time in, it will only be in the Sires' Produce, as everything about him tells us he'll stay," O'Brien said.
"He looked to move through his gears out there like a real stayer and that's the way we'll be approaching his future. He's not the sort of horse that you'd want to run around chasing at Caulfield in a Blue Diamond."
O'Brien has long enjoyed an affinity with the O'Reilly stock, with the New Zealand stallion providing him with Group 1 winners such as Master O'Reilly and Shamrocker, as well as Group 1 placegetters Vigor and Splashing Out.
"I've always thought he is one of the more reliable staying stallions and he looks to have another nice one here," O'Brien said.
Shamexpress ($4) was first out yesterday and took up the running in the 1200-metre event.
Jockey Dwayne Dunn sat quietly on the colt until the 400-metre mark, when he let him extend to win by four lengths over Galvez ($4.40), with 1½ lengths to Chasing Kisses ($4.80) in third.
O'Brien bought Shamexpress "on spec" at the New Zealand sales for $140,000 and had few problems finding owners for him once Shamrocker won the Group 1 Australian Guineas last March on her way to a famous AJC Derby win in April.
"Most of the [Shamrocker] owners … went into this colt as well and, who knows, maybe they've bought themselves another derby horse," O'Brien said.
Story by Andrew Garvey, to view full Age story click here
Photo by Scott Barbour (Getty Images AsiaPac)