O'Brien chases a Diamond in the rough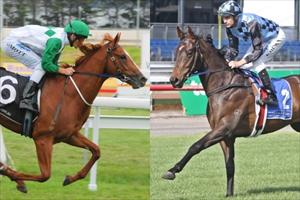 Flemington trainer Danny O'Brien tomorrow saddles two $51 outsiders in the Blue Diamond Stakes at Caulfield, but unlike at other times when trainers send out a bolter in the hope of a miraculous result, O'Brien suspects he is not merely making up the numbers.
As a winner of the Group 1 race two years ago with colt Star Witness, O'Brien knows a little of the 1200-metre scamper and it is with that knowledge that he is happy to run colts Cambiaso and Bush Aviator.
"I think that two-year-old form can go out the window when they get to 1200 metres," O'Brien said yesterday.
"It's a difficult one I think price-wise to assess them. It's a big jump for two-year-olds the first time they go to 1200 metres and certainly the pressure is extreme in the Diamond."
Advertisement: Story continues below The market has Mick Price's unbeaten filly Samaready as the hot $2.10 favourite with none of the other 15 horses under double figures. But the history of the Blue Diamond over the past decade is not a favourable one for the horse that starts at the shortest odds.
Since 1994 only three favourites have been able to win and on hearing their names yesterday, O'Brien noted a pattern. Bel Esprit (2002) won at $2 and then two years later Alinghi scored at $2.10. Sepoy won last year at $1.40 to become the equal shortest-priced favourite (with 1982 winner Rancher) to win.
"All champion two-year-olds," he said. "All of them were dominant."
The trainer was, of course, wary of Samaready, but wondered if the filly's short price was accurate.
"She was very good the other day but certainly last year, in my mind and in the mind of most people, he [Sepoy] was a deservedly short favourite. He was probably a once-in-a-decade two-year-old and I don't think we've got a two-year-old of that level this year."
If his theory is correct and it is indeed more open than the market suggests, O'Brien may have the wildcard of the race.
Stratum colt Bush Aviator, who O'Brien went to $140,000 to secure at the Magic Millions sales, has not raced in Victoria, with his sole run coming in a stakes race in Tasmania.
O'Brien conceded that such a preparation was hardly the proven formula for winning a Diamond, but said his horse's best efforts were still to come.
"When he came back in [after a summer spell], we had the option of Tasmania or whether to have a really tough first start in a [Blue Diamond] prelude, so we went down to Tasmania to have a softer beginning and what he did down there didn't discourage me, he won pretty comfortably."
O'Brien said Bush Aviator was a natural runner. "He doesn't have a problem taking a position. He's led and won nearly every trial he's had, so I'd expect him to push forward and be in the first half-dozen or so."
Cambiaso was a one-time favourite for the Blue Diamond but has been out of the placings in two runs this year.
"He was very good early in the spring … and he was very unlucky the other day in the prelude. I'm sure at the end of 1200 metres he'll be hitting the line strong."
O'Brien has added blinkers to Cambiaso's gear tomorrow.
Story by Andrew Garvey, to view full Age story click here
Photos by Peter Staples (Tassie Racing) & Bruno Cannatelli (Ultimate Racing Photos)