Lot 200 settles in down at Barwon Heads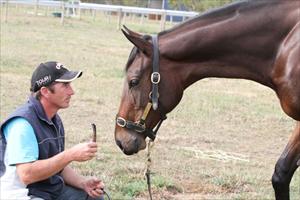 On the Bellarine Peninsula near Barwon Heads, a bay filly stands in the morning sun, lazily swishing flies with her tail. Two weeks ago, she was at the centre of a media storm, gracing the pages of many a newspaper and television news broadcast as Lot 200, the $2.6 million sales topper at the Inglis Easter Yearling Sale.
Now that the media hype has died down, the money has changed hands and the sales company is smiling, the joint most expensive yearling filly in Australia's history is just another horse, swatting flies and enjoying the sun on her back.
$2.6 million is a lot of money for what is essentially four legs with a tail and a propensity to reduce one's bank balance at a steady rate.
To put it into perspective, her buyers, BC3 and trainer Danny O'Brien, could instead have been the proud owners of a five bedroom, four bathroom, double garage property in Fairlight, North Sydney or invested in the very latest bright red speed machine with a prancing horse on the bonnet and plenty of horsepower underneath it.
Yet they chose to invest in a bay filly, who has all the appropriate appendages in the right places and likes to be tickled behind her left ear. Why you may ask, what makes this particular member of the Equus family so special and so expensive? Why did BC3 CEO, Bill Vlahos, call it "an opportunity to own a piece of history"?
Well for one her big sister is rather famous. Known as Black Caviar, she has scorched her way around the racetracks with her salmon and black dot silks, to become our very own Zenyatta, unbeaten, with 19 victories to her name. On Saturday she will grace the track of Morphetville for what will be her twentieth victory in as many starts.
Will be? Well if there is such a thing as a sure thing in racing then Black Caviar is pretty much it.
So back to her little sister, the bay filly with the ticklish left ear. She is also blessed with two male siblings. Now normally boys cause nothing but trouble for little sisters as they are wont to tease and torment, but in the equine world, they can be a huge asset.
Older brother Moshe has taken up residence at Eliza Park tasked with the delightful duty of furthering the family lines, while All Too Hard made it look all too easy on the Sydney and Melbourne metropolitan tracks until he ran into the Golden Slipper winner Pierro.
But where does our as yet unnamed baby sister fit in? Even without setting a foot on a racetrack, she can command indecent prices for her future offspring, all off the back of her big sister's phenomenal talent. Yet taking into consideration the stallions she would be likely to visit, it would probably take at least four perfect specimens before she has even recouped her purchase price.
So we can take it that she is very likely to grace the racetracks first, in the hope that she proves herself quite capable, before settling down to motherhood. Is she going to be as good or perhaps even better than her big sister? Only time will tell.
Vlahos certainly hopes so. She is the most expensive yearling they have ever purchased for the BC3 program and one of only 16 purchased this year. The main aim of BC3 being the selection of quality, athletic yearlings, which they then put through their schooling and training program with resident trainer, Kevin Newby, before offering them for sale as quality ready-made racehorses.
From her peaceful paddock at Barwon Heads, the bay filly will eventually move down the road to the impressive training facility of her co-owner, Danny O'Brien, trainer of the international sprinter Star Witness and last year's Derby winner, Shamrocker (NZ). There she will start the arduous journey to becoming a proper racehorse.
So where does this leave Lot 200, as she is commonly known. She stands gazing at the blue gums that surround her paddock and offers that itchy ear for a scratch, completely unaware of the fuss and hype that surround her. She is just a big baby, a very athletic baby, a baby with a look of class about her, who might perhaps one day become a very good horse.
Story and Photos by Liesl King, to view full story on Thoroughbred News website click here