Eraset breaks drought for patient owners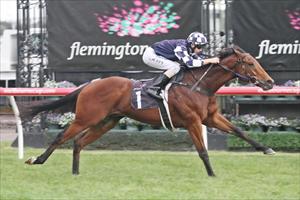 After nearly 19 months without a win and a handful of frustrating seconds, Eraset repaid the patience of his owners by returning to the winners circle with a thrilling victory over 1700m at Flemington on Saturday.
Underlining the win was that it completed wins on all Victorian metro tracks for the Reset gelding, who has now won seven races for more than $360,000 in prizemoney following the two-and-a-quarter length victory.
"This horse really deserved this win," trainer Danny O'Brien said.
"He has run second to Happy Trails, He's Remarkable and Mawingo so to see him come out and decimate a field again is great for the owners."
Eraset's last win was a commanding victory in the Sale Cup in October 2010.
"His owners have been terrific, patient and understanding. I'm esctatic that they have been able to the thrill of winning at Flemington."
Before Saturday's win Eraset had finished in the placings in five of his 10 starts at headquarters.
Junior rider Jake Duffy was a late replacement rider for leading apprentice Katelyn Mallyon who was injured in the race before.
"Jake rode the horse a treat, but our thoughts and best wishes go out to Katelyn and her family," O'Brien said.
Picture by Bruno Cannatelli, to view Bruno's website click here