Newitt and O'Brien team to win Newmarket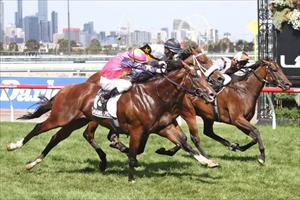 Time heals most wounds in racing. Sometimes it takes just one ride - a pearler - in a famous race and the demons of the past are buried forever.
Jockey Craig Newitt and trainer Danny O'Brien embraced in the mounting yard after Newitt rode the perfect race aboard O'Brien's gun three-year-old Shamexpress to land the Newmarket Handicap.
For Newitt, the big autumn races have represented both a circle and a black mark on the calendar.
Newitt won the 2007 Newmarket aboard Miss Andretti the same day he won the Australian Cup aboard Roman Arch.
Two years later, and a fortnight earlier on the calendar, Newitt's father Guy was killed in a car accident, on the morning of the Blue Diamond Stakes.
"It goes back in history for me a fair bit with the old man," Newitt said yesterday.
Yesterday was a major occasion, a return to the big league, for O'Brien too. Winning a Newmarket was one thing, but winning it on the crest of a wave after a bleak two years was another.
O'Brien gambled millions a few years back on a lavish training property near Barwon Heads. The financial gamble coincided with an 18-month form slump.
For O'Brien, yesterday's win was reward for hanging in there.
"There's no place for people who give up in this industry. You persevere and everything's flying now," he said.
The biggest story of all, however, was the burying of the past.
In April 2004, Newitt was disqualified for 18 months for lying during an inquiry into his handling of the O'Brien-trained Leone Chiara in a race at Sandown.
Back then, with O'Brien providing evidence that did not support the jockey, a brief trainer-jockey relationship appeared to have ended controversially and abruptly. But that was then.
"That was a long time ago," O'Brien said.
"He was very young and he's a credit to himself. He has a young family and rides as good as anyone. He's an utter professional and I'm very happy to see him win."
Newitt was "grateful for Danny to reunite with me".
"He's given me a lot of opportunities the last couple of months. I've got to thank Danny and his owners for giving me the chance."
The confidence of trainer and jockey grew after an impressive Flemington jump-out on Tuesday, where Shamexpress galloped with well-backed Newmarket runner Better Than Ready.
"I was pretty confident that we trialled better than him (Better Than Ready) Tuesday," O'Brien said.
Yesterday Newitt rode Shamexpress ($15) cold and for cover and produced a blinding late burst to collar favourite Moment Of Change ($3.20), which led until the shadows, by a short head. Sydney-trained outsider Aeronautical ($81) was a nose away in third.
Disappointments were previously unbeaten Barakey ($6.50) which ran 11th and Better Than Ready ($4.80), which looked a chance at the 250m, but ran fifth.
By Matt Stewart, to view full Herald Sun story click here 
Photo by Bruno Cannatelli, to view Bruno's website click here