Express track to Ascot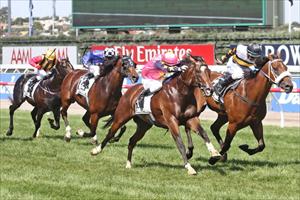 While champion mare Black Caviar will not be representing Australia at Royal Ascot in June, it's full steam ahead towards England for Lexus Newmarket Handicap (1200m) winner Shamexpress.
Currently enjoying the relaxed environment at trainer Danny O'Brien's Barwon Heads property, O'Brien said a decision on whether Shamexpress runs in The Diamond Jubilee Stakes (1200m) on Saturday the 22nd of June wouldn't be made until after the three-year-old runs in The King's Stand Stakes (1000m) four days earlier.
"He definitely runs in the King's Stand but we'll evaluate once we're over there whether he also runs in the Golden Jubilee Stakes as well," O'Brien said.
"He leaves in the first week of June and he'll arrive in England two weeks before the King's Stand.
"We'll give him a jumpout at Flemington the week before he gets on the plane, he'll leave for England really fit and once he gets to the Newmarket training complex he'll probably only have one, maybe two gallops.
"He only had the three runs early in the autumn culminating in the Newmarket Handicap at Flemington and he's just been a very happy horse down at Barwon Heads since then, he's going to get on the plane with plenty left in the tank and hopefully he's good enough to win at Royal Ascot."
O'Brien, who has twice previously travelled sprinters to England for the Royal Ascot Carnival with Glamour Puss in 2006 and Star Witness in 2011, said his past experiences had taught him it was crucial not to overtax a horse prior to embarking on the journey.
"With Glamour Puss we took her up to Sydney and ran in the T.J. Smith which was just a bit too much and she raced a bit tired (finishing 7th in the Kings Stand and 10th in the Golden Jubilee)," he said.
"Star Witness ran in the Newmarket and then spent the rest of the autumn resting and he came out and performed super finishing second in the King's Stand and third in the Golden Jubilee.
"I believe it certainly helps if you give them a bit of a rest before you go."
Interestingly, Shamexpress has an almost identical profile to Star Witness when he left for England, with both horses having had ten starts culminating in a run in the Newmarket Handicap.
Despite the obvious similarities, O'Brien said Shamexpress was a slightly larger colt than Star Witness and was also more relaxed.
"Star Witness was always a horse that used to get a bit wound up and sometimes the occasion would get to him a little bit where as Shamexpress is very relaxed," he said.
"Star Witness really enjoyed the Newmarket stabling and training experience and I'm sure Shamexpress will too.
"The environment down at Barwon Heads with the open ground and country environment is very similar so I'm sure he'll have no problem settling in." 
By Ben Asgari, to view full Racing Victoria story click here
Photo by Bruno Cannatelli, to view Bruno's website click here