Newitt knows what it takes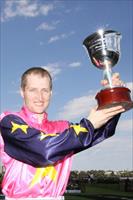 Craig Newitt knows what works for an Australian jockey leading into Royal Ascot, having partnered Miss Andretti to victory in the 2007 King's Stand Stakes.
That year he arrived on the eve of the 1000-metre Group 1 event, which is the feature sprint race on the opening day of the world's most prestigious racing carnival.
It therefore should not surprise that that's the approach he is taking in to next week's carnival, at which he will partner the Danny O'Brien-trained Shamexpress in the King's Stand Stakes, run Tuesday night Australian time.
"I'm not riding today, but I'll ride every day up until Saturday, get on a plane about Sunday lunchtime and get over there on Monday," Newitt said.
"I didn't a pretty similar thing when I went over there before. I find it best to just keep riding.
"I don't know whether having been there before helps with the preparation, but it's good to have been there before so you know what you're going to be up against."
That is some of the world's best sprinters in a race that Australia first put its stamp on 10 years ago when the Paul Perry-trained Choisir scored a famous upset win.
Joe Janiak's Takeover Target scored the first of back-to-back wins for Australia when he won in 2006, while two years after Miss Andretti's victory for Lee Freedman, the Dan Morton-prepared Scenic Blast was triumphant.
The latter three, like Shamexpress did earlier this year, all won the Group 1 Newmarket Handicap (1200m) at Flemington in the year of their King's Stand success.
But Australia's success in the Royal Ascot sprints hasn't been limited to the King's Stand, with Choisir and Black Caviar having won the Group 1 Diamond Jubilee Stakes (1200m) on Saturday's final day, ensuring the Royal meeting is now the most anticipated international racing carnival by Australian racing fans.
It has given Newitt something to get excited about as the Australian racing season nears its completion.
Last year he was also in the headlines around this time, owing to the stirring duel he and Luke Nolen were having in the race for the Victorian Metropolitan Jockeys' Premiership.
Newitt missed out on his maiden metro title, finishing five wins astern of Nolen – 74 to 69 – but he was crowned Australia's leading rider, having partnered 185 winners from 1285 rides.
The 28-year-old has not got close to replicating those numbers in 2012/13 – nationally he has 96 winners from 823 rides, while in Melbourne he has won 37 of the 397 races he has competed in – but Newitt said that had been by design more than anything else.
With three young boys – Noah (3), Chase (2) and Casey (10 months) – he made a conscious decision to scale back and is pleased he did.
"I worked tirelessly all last season, but I've got three young boys now and I thought I'd see if I could cut back a little bit and just focus on the main meetings rather than go to the bush meetings," Newitt said.
"Because it's a 24/7 industry these days, you don't get to spend as much time with your family as you would like, so it's been good. I've been able to cut back and spend a lot more time with the family."
That, too, can be taxing, which is why Newitt is looking forward to the couple of days he and wife Karli will spend in Italy after the King's Stand before returning to Australia.
He sees no reason why that will not be King's Stand celebration, with Shamexpress landing at Newmarket in good order the only box the jockey needed to see ticked by the O'Reilly three-year-old, who rounded out his English preparations with a jumpout up the Flemington straight on 31 May.
In that hit-out he ran scorching time to defeat Linton, who came out on Saturday and won the Group 1 Stradbroke Handicap in Brisbane.
"The form out of the trial has stood up really good and I thought he trialled equally as impressively as he did before he won the Newmarket," Newitt said.
"As far how the horse has been working, I don't think he's ever been going any better.
"Obviously it is exciting to know that he's travelled and settled in really well because that was my only concern with him."
Newitt will head back to England after his brief Italian stay with the outside possibility that Shamexpress may back-up in the Group 1 Diamond Jubilee Stakes (1200m).
The other option is to save Shamexpress for the UK's other Global Sprint Challenge leg, the Group 1 July Cup, which would require Newitt to be at the famed Newmarket course on 13 July.
Story by Brad Bishop, to view Racing Victoria click here
Photo by Bruno Cannatelli, to view Bruno's website click here