Racing Victoria Blog - Part 3: Danny O'Brien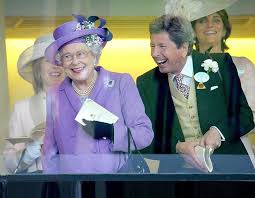 It was a slightly disappointing result on Tuesday with Shamexpress finishing ninth in the King's Stand however he has pulled up fine and we're still heading towards the July Cup on the 13th.
Unfortunately my horse was drawn on what turned out to be the slower part of the straight course on Tuesday and he probably felt the run in the last 100 metres. He made his run with Shea Shea inside the 400 metre mark and looked like he was going to run a place but that didn't eventuate. I'm not making excuses but it was very difficult for horses drawn along the inside rail, with most of the the winners coming along the grandstand side all day.
Craig (Newitt) said Shamexpress felt terrific in the run and that he handled the undulation of the course okay but that we were on the wrong part of the track. His form is better at 1200 so hopefully we can get a better result in the July Cup (1200m).
My wife Nina and I got a surprise invitation by the Ascot Racing Club to join Her Majesty The Queen for afternoon tea on the second day of Royal Ascot.
As far as protocol goes, we were advised to curtsey, be yourself and that all the Queen will want to talk about is racing and that's exactly what happened.
Nina and I were both petrified beforehand though of not doing the right thing and when I saw that I was actually sitting next to the Queen I thought goodness me.
It was a really good experience. We were taken to the Royal marquee in the Royal Enclosure and shown to the table of 10. As soon as she entered the room everyone went dead silent. She walked over to the table, shook hands with everyone; we all curtsied and then sat down. The whole afternoon tea, which was an intimate environment, went for about 45 minutes.
Obviously the Queen has done this a million times so is great at putting her guests at ease in her company. As soon as she sat down, the conversation felt very easy.
She just chatted away, telling me about her horses that pull her coaches each day, how they're usually stabled at Buckingham Palace but that they come up to Windsor for Royal Ascot week. There was a young one which had its first time pulling the coach down the straight.
The Queen told me about her racehorses, one of which she had running in the Ascot Gold Cup (Estimate). She said it was a longshot, even though it started favourite, but that it was nice to have a horse in the race. Just like any owner, she was hoping to have a decent day at the track with her runners. Turned out she probably had one of her best days on a racetrack when that lightly-raced filly toughed it out over the final stages of the 4000m to win.
The Queen was asking me about Flemington, and my experience at Newmarket. Really, it was just so easy to have a conversation with her, it was amazing.
She's very switched on and her knowledge of thoroughbreds is impeccable. Her knowledge of racing goes back 50-60 years and she's been going to Royal Ascot every year for that period of time too. There wouldn't be too many people around the globe who has the knowledge that she does.
She knew exactly who which winner was when they crossed the line, and made comment on jockey James Doyle's treble for the day saying "that's the third winner for that kid today."
We watched a two-year-old race together where there was a Fastnet Rock in it; so she asked me about him as a stallion. She said she has visited Fastnet Rock at Coolmore and sent two of her mares to him this year because she's looking to get a bit of speed into her families.
With the American horse Animal Kingdom competing at the meet, we also talked about American jockeys who had ridden in Europe throughout the years like Steve Cauthen. She is absolutely across everything!
It was like having afternoon tea with a group of people who really enjoy their racing. Speaking of which, Adam Sangster's brother Ben was there with his wife and Johnny Weatherby, the Queen's Representative at Ascot was also in the marquee where tea and sandwiches were served.
The Queen wore a mint green outfit which Nina was impressed with (fashion is not really my area of expertise). When it came to saying goodbye, the Queen just stood up, excused herself, said it was lovely to meet you and off walked for the forthcoming race presentation.
She is a genuinely interesting person to have a conversation with and you wouldn't know she is 87 years of age, you would think she is 35 because she is so sharp. I then had a couple of drinks afterward to celebrate the hitch-free experience!
Even though I've been here a few times now, Ascot's grandstand, pre-parade ring and facilities are just fantastic. It really is one of the world's great racecourses, especially with the beautiful straight mile – it's pretty hard to beat.
Nina and I are now going to have week off with the kids in France then will come back to Newmarket and continue preparation for Shamexpress in the July Cup.
All the best,
Danny
Blog appears courtesy of Racing Victoria Limited