Sky's the limit for gun apprentice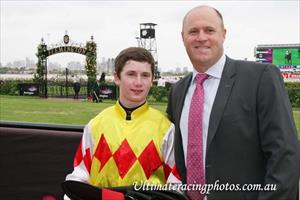 Irish apprentice Oisin Murphy is hoping he can make as big a splash in Dubai as he has in Australia when his three-month spell here ends in two weeks.
Murphy, 18, has created a huge impression in Melbourne riding mainly for Flemington trainer Danny O'Brien.
The Kerry-born but English- based rider has notched six city winners from 37 rides, an impressive strike rate of more than 16 per cent, as well as another seven on the provincial circuit from 40 mounts.
O'Brien, and many other trainers, would be happy to see Murphy extend his working holiday, which was arranged by English trainer Andrew Balding, who sent out Side Glance to win the group 1 Mackinnon Stakes last spring.
Advertisement
But Balding and Murphy believe that he needs to broaden his education - he got a licence to ride in races only last June but has already ridden a total of 54 winners here and in England - and that a trip to the Middle East will benefit him.
"I go home on February 16 but I spoke to my boss and now may be heading to Dubai," Murphy said on Saturday. "As long as I can claim out there, he reckons I should get plenty of rides in handicaps and hopefully get more experience.
"I have been asked to ride a few horses out there for Andrew Balding, and if I can avail myself of that opportunity it would be great, and [Dubai trainer] Fawzi Nass … might give me some rides.
"Growing up you would see the races from Dubai and it was like Hong Kong, it was where all the best jockeys go, not necessarily the best horses. The prizemoney is very big and it would give me the chance to ride against people I haven't ridden against before and learn a lot."
So no chance that Murphy might want to stay in Australia with autumn carnivals just around the corner?
"Probably not. This time of year the racing here really hots up and it's becoming more and more competitive and harder for apprentices to get rides - and if I don't go to Dubai I am probably wanted by my boss back in England," he said.
Murphy will start as one of the favourites to win the apprentices' championship this flat season in Britain, and he believes his stint in Melbourne has improved him in many areas. He will still have his claim when he returns, and that is another factor in his decision not to stay here.
"Danny and my boss came to the conclusion that I might ride too many winners and not learn anything new," he said.
"The biggest thing I have learnt here is pace, and race tactics. I have learned a lot more about times [sectionals and riding against the clock, which is far more common in Australia than England] from riding out for Danny every morning.
"Craig Williams and Damien Oliver have been a massive help to me. I sit beside Craig a lot at the races and it's great that a world-class jockey is giving you advice, and Damien rides out for Danny and it's great to be riding with those sort of people.
"Kieren Fallon is my favourite jockey, and I also look to Ryan Moore and Joseph O'Brien [son of Coolmore trainer Aidan O'Brien]. [Fallon] and Damien are quite similar.
"Damien and Craig are the last people to go for their [whip]. They win races they shouldn't because they are brilliant riders, they wind horses into the race.
"I follow them in races, particularly at Moonee Valley. They see gaps open even before they have come. They have an awareness what to get on the back of, which ones are falling out of contention."
Murphy's family background suggested he would become a jockey. His uncle, Jim Culloty, was a leading jumps rider who won the Cheltenham Gold Cup three times in a row on Best Mate.
Murphy left his Kerry home at 11 and moved to Cork, where Culloty now trains, and began working at the yard as a 13-year-old.
Two years later he moved to another top trainer and ex-jumps jockey, Tommy Stack, who won the Grand National on the legendary Red Rum, before moving to Aidan O'Brien's as a 16-year-old to ride work. I then moved to England when I was 17, and came out here this year, he said.
He has crammed a lot into a short time, and should be one of racing's leading lights for a long time to come.
Story by Age senior reporter Michael Lynch, to view full story on-line click here
Photo by Bruno Cannatelli, to view Bruno's websiteclick here